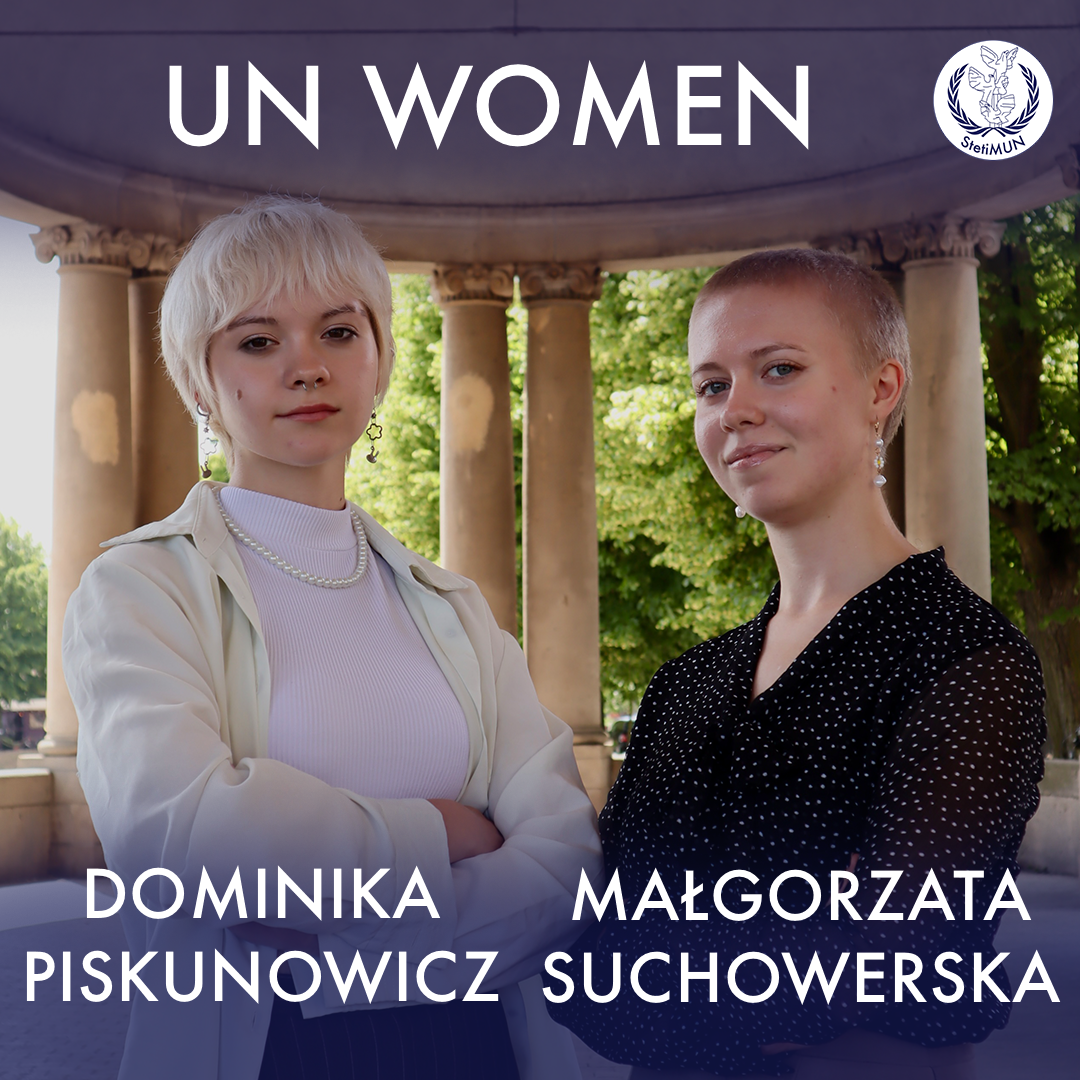 Chairs of United Nations Commission on the Status of Women
Topic: Discussing the issue of treatment of imprisoned women with particular focus on perinatal health care
The United Nations Commission on the Status of Women works for achieving gender equality in all states and communities. This entity sets standards for every member state so that women worldwide can be empowered and treated with respect to their human rights. This year's topic of the UN Women committee during the StetiMUN 2022 Conference is "Discussing the issue of treatment of imprisoned women with particular focus on perinatal health care" and the debates will be led by Małgorzata Suchowerska and Dominika Piskunowicz.
Even though women have always been a minority in prison populations, their numbers are growing every year at a rate faster than men. Women in jail endure higher stigma than males due to gender roles and societal standards. Although incarceration may provide women with access to care that they could not obtain in their communities, prison systems, which were mostly built by and for men, frequently fail to meet the special health-related needs of women. Pregnant imprisoned women are a high-risk obstetric category, which means that both the mother and the fetus are more likely to experience issues during pregnancy and as an effect, have lower results. Inadequate prenatal diet, poor availability of substance abuse management, shackling and inability to obtain adequate mental health care are only a couple of issues that need to be addressed.
The issue is particularly worth discussing since in many prisons worldwide, there is a significant violation of international law. For instance several articles from the International Covenant on Civil and Political rights or the Convention on the Elimination of All Forms of Discrimination against Women. 
During the debates we will discuss how gender equality in the law enforcement system can be established more effectively with a particular focus on health care of pregnant inmates. In our committee we would like to emphasize that deprivation of liberty should be a sanction for the individuals and protect society, not be the base of violating human rights other than freedom of movement. Undoubtedly the debates will be heated since the systems worldwide are diverse and we look forward to finding effective and creative solutions.
We are eager to meet you, delegates, in Szczecin! 
Your Chairs,
Małgorzata Suchowerska and Dominika Piskunowicz